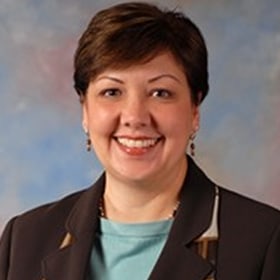 Alex is a partner/managing director in Parthenon-EY, where she works primarily on growth strategy projects. She helps clients define and implement their strategy and build organizational capabilities to deliver sustainable business results through both organic and inorganic approaches. She is a thought leader in the industry and specializes in asset repurposing and optimizing value propositions. Prior to joining EY, she was the senior vice president of Walgreens Corporate Strategy.
Alex has over 30 years of experience working on strategic growth and risk mitigation engagements. She began her career with Arthur Andersen and after 10 years moved into consulting with Mercer as the leader of the National Health Care Analysis Unit, helping to architect one of the first health data analytics platforms.
Alex has worked globally with Fortune 500 companies and has developed and implemented large-scale strategy, operations, and financial projects. Her domain expertise in health care and life sciences includes hospital operations, pharmacy and drug manufacturing, patient clinical intervention programs, employer benefit plan designs and funding, commercialization, and growth strategies, including mergers and acquisitions.
Alex has been quoted in numerous articles in Forbes, the Chicago Tribune, Business Insurance, Workforce Management magazine, Crain's Chicago Business, and other industry publications. She is on the editorial board of Inside Patient Care magazine.
---
01:00 Unnecessary care vs controlling costs.
01:30 The three things Alex looks at when she's helping a client with their business strategy.
01:40 First, looking at the business model.
02:15 Second, the operating model.
02:45 Capacity constraints vs excess capacity.
04:00 Third, the economic model.
04:30 "We have not performed our duty as an industry to ensure that the dollars that we are collecting in premiums ... are being effectively used to pay for care."
05:50 "We should be looking at the economic model."
06:20 "The price is not the problem."
07:40 "Are those services necessary?"
09:30 "Most employers don't know what to ask."
09:55 "Employers can get better about the terms and conditions that they agree to in their contracts."
12:30 "There's a huge difference between legal liability and responsibility."
13:10 "We're living in a world where social media creates information transparency."
18:10 The rules to cutting out middlemen to streamline and rationalize payer cost.
18:40 "The economic model needs to be about the value; the service model needs to be about the outcome."
22:55 "The fundamentals of process improvement changes haven't changed in 50 years."
25:40 "If you're an employer, you have a responsibility to know how your money is being spent."
27:20 "Scale matters ... volume matters."
27:55 "You must make concessions."
28:55 Read Alex's list of employer actions to reduce pharmacy costs here.
29:20 You can learn more by emailing Alex directly at alex.jung@ey.com.