This episode was recorded prior to COVID-19 hitting our shores. Irrespectively, it is incredibly relevant. Right now, more than ever, we need physician leadership and we need partnership across organizations and within organizations so that good decisions can be made as fast as possible.
Look, we don't have time to mess around right now. We need to be making good decisions—and fast. And these decisions on digital health solutions and other technologies and processes and workflows need to really be made by those who are participating in the care of patients directly. Or by the patients themselves. Or, best case, by both together working as partners, if you will. It doesn't go well for all kinds of reasons when decisions about what patient care is going to look like at a macro level are made by the suits and people or departments or companies who are "over there" as opposed to here in the exam rooms.
In this health care podcast, I speak with Matt Anderson, MD, MBA. Matt is the innovation lead over at Banner Health. He talks about the importance of physician leadership a lot. And, by that, he means doctors and nurses and other clinicians demanding to be heard and demanding that their point of view be a decision-making criterion in how a care delivery system operates.
But as we dug deeper, Dr. Anderson and I, a theme emerged. Along with multiple mentions of the Shkreli Awards and my conversation with Shannon Brownlee and Vikas Saini (which is episode 260 if you want to look back and listen to that), the theme that emerged in the conversation you're going to hear was the importance not just of physicians in leadership roles but of the scrubs partnering with the suits in almost every leadership decision. Doctors and nurses and administrators really have to work together so that the business is sustainable, for sure, but while patients continue to get the best care—also for sure. One cannot sacrifice the other without consequence.
You can also connect with Dr. Anderson on Twitter at @DrAnderson19 and on LinkedIn.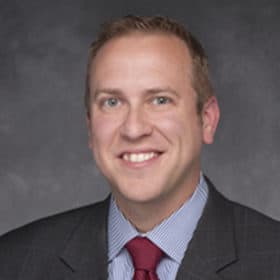 Matthew Anderson, MD, MBA, is a father, husband, and family physician living in Arizona. He serves as innovation lead and division medical director for Banner Health. Since joining Banner Health in 2018, Matthew has been an active member of the AZBio Government Affairs Committee.
By providing primary care medical services to his patients in Arizona, Matthew has seen many of the inefficiencies and difficulties within their health care system. His training at Mayo Clinic taught him what it means to put the patient first, and that focus has stayed with him for every patient encounter. Recently, Matthew completed an MBA program at Arizona State University's WP Carey School of Business. His goal is to take the foundation he has in good-quality medical care and combine that with an understanding of the economics of health care to use technology to create a better, safer, and healthier medical system.
---
02:30 Distinguishing between billing technology and technology improving bonds between clinicians.
04:03 "The scribe is literally just there to take the burden of the EMR off the physician."
04:41 "If all of your goals begin and end with patients, you're not gonna go wrong."
06:07 "We gotta get a little bit tribal in medicine."
06:27 "Physicians have to be leaders in this space."
07:21 Suits vs scrubs.
08:47 Why low-revenue care is sometimes better than high-revenue care.
13:49 EP260 with Shannon Brownlee and Vikas Saini, MD, from the Lown Institute.
16:11 "There's a role to play for all of our clinical partners in the leadership of our health care systems."
16:38 "You have to be able to be curious."
18:35 The movement to humanize medicine with technology, led by Eric Topol.
20:45 Creating a culture where it's okay to fail.
22:31 Starting the educational process on the business of health care earlier.
25:48 Technology as top-down vs physicians as bottom-up.
You can also connect with Dr. Anderson on Twitter at @DrAnderson19 and on LinkedIn.
---
Check out our #healthcarepodcast with @DrAnderson19. #healthcare #podcast #digitalhealth #healthtech #physicians #clinicians #healthsystems #hospitals
Billing #technology vs technology that improves clinician work. @DrAnderson19 discusses in our #healthcarepodcast. #healthcare #podcast #digitalhealth #healthtech #physicians #clinicians #healthsystems #hospitals
"The scribe is literally just there to take the burden of the EMR off the physician." @DrAnderson19 discusses in our #healthcarepodcast. #healthcare #podcast #digitalhealth #healthtech #physicians #clinicians #healthsystems #hospitals
"If all of your goals begin and end with patients, you're not gonna go wrong." @DrAnderson19 discusses in our #healthcarepodcast. #healthcare #podcast #digitalhealth #healthtech #physicians #clinicians #healthsystems #hospitals
"We gotta get a little bit tribal in medicine." @DrAnderson19 discusses in our #healthcarepodcast. #healthcare #podcast #digitalhealth #healthtech #physicians #clinicians #healthsystems #hospitals
"Physicians have to be leaders in this space." @DrAnderson19 discusses in our #healthcarepodcast. #healthcare #podcast #digitalhealth #healthtech #physicians #clinicians #healthsystems #hospitals
Suits vs scrubs. @DrAnderson19 discusses in our #healthcarepodcast. #healthcare #podcast #digitalhealth #healthtech #physicians #clinicians #healthsystems #hospitals
Why is low-revenue care sometimes better than high-revenue care? @DrAnderson19 discusses in our #healthcarepodcast. #healthcare #podcast #digitalhealth #healthtech #physicians #clinicians #healthsystems #hospitals
"There's a role to play for all of our clinical partners in the leadership of our health care systems." @DrAnderson19 discusses in our #healthcarepodcast. #healthcare #podcast #digitalhealth #healthtech #physicians #clinicians #healthsystems #hospitals
"You have to be able to be curious." @DrAnderson19 discusses in our #healthcarepodcast. #healthcare #podcast #digitalhealth #healthtech #physicians #clinicians #healthsystems #hospitals
Humanizing #medicine with #technology. @DrAnderson19 discusses in our #healthcarepodcast. #healthcare #podcast #digitalhealth #healthtech #physicians #clinicians #healthsystems #hospitals
Creating a culture where it's okay to fail. @DrAnderson19 discusses in our #healthcarepodcast. #healthcare #podcast #digitalhealth #healthtech #physicians #clinicians #healthsystems #hospitals
Educating on the business of health care. @DrAnderson19 discusses in our #healthcarepodcast. #healthcare #podcast #digitalhealth #healthtech #physicians #clinicians #healthsystems #hospitals
Technology as top-down vs physicians as bottom-up. @DrAnderson19 discusses in our #healthcarepodcast. #healthcare #podcast #digitalhealth #healthtech #physicians #clinicians #healthsystems #hospitals