The World Bank had a revelation a few years back. Some very smart people working there realized that countries that were easy to do business with thrived. Within these countries' business ecosystem, the best and the brightest entrepreneurs and investors grew not only their own businesses but also positively influenced other businesses and the community around them.
Brian Van Winkle and Rishab Shah, both executives at Johns Hopkins, had their own revelation: Health systems who are easy to do business with attract and enable the best and the brightest start-ups or other entrepreneurs who are able to do great work within their walls, with their patients, and with their clinicians.
It's becoming fairly axiomatic at this juncture that provider organizations—along with payers, by the way—cannot be good at inventing and innovating absolutely everything that's possible to conceive of and develop. It is impossible for any group, no matter how dynamic and forward thinking and awesome, to be better than everybody else at everything. For this reason, the idea of health systems and payers becoming great aggregators of amazing tech and services is definitely gaining traction. This would include internally developed as well as externally sourced technology and services. Listen to Rahul Dubey in episode 259 for more info on this evolution in the payer space.
But back to Brian and Rishab. They spotted this trend in its early days and also saw the issues that health systems face and will face as the ease of doing business becomes more and more of a rate critical of success. Thus was born the Ease of Doing Business Initiative, health care–style, based on the World Bank's Ease of Doing Business model.
In a nutshell, what the World Bank did in their Ease of Doing Business Initiative is they came up with a set of measures and hived those measures into categories and then they ranked countries against those measures. Brian and Rishab decided to do the same thing. They created a list of questions for health systems to self-rank (at least initially) themselves on how well they did within these seven categories of measures. Twelve to fifteen of the leading health systems agreed to participate. Most are members of NODE.Health, where Brian is the former executive director. And this Ease of Doing Business Initiative is under the NODE.Health umbrella.
In this health care podcast, Brian and Rishab speak only for themselves during this interview. They do not speak for their employer or anybody else. (Note: I also interviewed Brian and Rishab at the NODE.Health Digital Medicine Conference.)
You can learn more at the Sibley Innovation Hub (@SibleyHub) on Twitter or by connecting with Brian and Rishab on LinkedIn.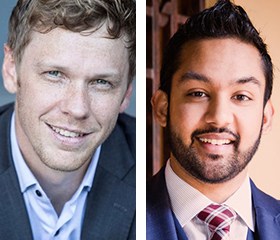 Brian Van Winkle, MBA, is the executive director of innovation at the Sibley Innovation Hub. His focus is on transforming the health care system by being a conduit between passionate clinicians and some of the most advanced solutions emerging around the world. Brian brings more than 10 years of experience helping some of the most complex health care systems in the world with transformation, process improvement, and strategy design.
Brian has a dual degree in economics and English from the University of Virginia and earned his MBA at Fuqua School of Business at Duke University.
Rishab Shah, MHS, is the head of digital innovation and strategic partnerships at the Sibley Innovation Hub. He leads the Hub's charge in development, implementation, and oversight on driving innovation through strategic partnerships with emerging technologies around the world as senior manager of tech innovations.
Rishab is a strategist inspired to innovate while empowered to create. He has helped companies around the world with corporate strategy, business operations optimizations, and large-scale technology transformations—primarily within the health care and life sciences industries.
Rishab has a bachelor's degree in biomedical engineering from Virginia Commonwealth University and a Master of Health Science from Johns Hopkins University.
---
03:46 Focusing on "outside-in" innovation.
04:09 The downside to hospitals and health systems not being easy to work with.
05:17 "You have to acknowledge that we're in a crisis state."—Brian
06:56 "Are we putting ourselves at a disadvantage by not … being easy to interface with?"—Rishab
08:25 Why hospitals might not be so easy to work with right now.
09:11 The correlation between a partnership strategy and health outcomes and metrics that matter.
09:42 The gap between health care players' workload and collaboration.
12:04 "Who is putting the focus on the requirements?"—Rishab
12:44 What the Ease of Doing Business Initiative is.
14:56 The opportunity for entrepreneurs to be involved in this process.
16:07 Ecosystem-based work groups.
17:22 "What box do you exist in?"—Brian
18:29 The seven success factors an organization needs to be good at to improve their ease of business.
18:53 Customer support and governance.
19:02 Contracting and legal.
19:11 Patient safety and clinical research.
19:21 Integration and technology.
19:27 Data security and availability.
19:32 Commercialization support.
19:39 Industry perceptions.
21:04 How health care systems view their own ease of doing business.
25:20 The intent of the Ease of Doing Business Initiative.
28:39 Outside innovation vs comprehensive innovation strategies.
You can learn more at the Sibley Innovation Hub (@SibleyHub) on Twitter or by connecting with Brian and Rishab on LinkedIn.
---
Check out our latest #healthcarepodcast with Brian Van Winkle and Rishab Shah of @SibleyHub as they discuss their #easeofdoingbusiness initiative. #healthcare #podcast #digitalhealth
Focusing on "outside-in" #innovation. Brian Van Winkle and Rishab Shah of @SibleyHub discuss on our #healthcarepodcast. #healthcare #podcast #digitalhealth #healthinnovation
What's the downside to having #hospitals and #healthsystems that are difficult to work with? Brian Van Winkle and Rishab Shah of @SibleyHub discuss on our #healthcarepodcast. #healthcare #podcast #digitalhealth #healthinnovation
"You have to acknowledge that we're in a crisis state." Brian Van Winkle and Rishab Shah of @SibleyHub discuss on our #healthcarepodcast. #healthcare #podcast #digitalhealth #healthinnovation
"Are we putting ourselves at a disadvantage by not … being easy to interface with?" Brian Van Winkle and Rishab Shah of @SibleyHub discuss on our #healthcarepodcast. #healthcare #podcast #digitalhealth #healthinnovation
What's keeping #hospitals from being easy to work with? Brian Van Winkle and Rishab Shah of @SibleyHub discuss on our #healthcarepodcast. #healthcare #podcast #digitalhealth #healthinnovation
Is there a correlation between a partnership strategy and health outcomes and metrics that matter? Brian Van Winkle and Rishab Shah of @SibleyHub discuss on our #healthcarepodcast. #healthcare #podcast #digitalhealth #healthinnovation
"Who is putting the focus on the requirements?" Brian Van Winkle and Rishab Shah of @SibleyHub discuss on our #healthcarepodcast. #healthcare #podcast #digitalhealth #healthinnovation
What is the #easeofdoingbusiness initiative? Brian Van Winkle and Rishab Shah of @SibleyHub discuss on our #healthcarepodcast. #healthcare #podcast #digitalhealth #healthinnovation
"What box do you exist in?" Brian Van Winkle and Rishab Shah of @SibleyHub discuss on our #healthcarepodcast. #healthcare #podcast #digitalhealth #healthinnovation
What are the seven success factors an organization needs to be good at to improve their ease of business? Brian Van Winkle and Rishab Shah of @SibleyHub discuss on our #healthcarepodcast. #healthcare #podcast #digitalhealth #healthinnovation
How do #healthsystems view their own ease of doing business? Brian Van Winkle and Rishab Shah of @SibleyHub discuss on our #healthcarepodcast. #healthcare #podcast #digitalhealth #healthinnovation
Outside innovation vs comprehensive innovation strategies. Brian Van Winkle and Rishab Shah of @SibleyHub discuss on our #healthcarepodcast. #healthcare #podcast #digitalhealth #healthinnovation
#Customersupport and #governance. Brian Van Winkle and Rishab Shah of @SibleyHub discuss on our #healthcarepodcast. #healthcare #podcast #digitalhealth #healthinnovation
Contracting and legal. Brian Van Winkle and Rishab Shah of @SibleyHub discuss on our #healthcarepodcast. #healthcare #podcast #digitalhealth #healthinnovation
#Patientsafety and #clinicalresearch. Brian Van Winkle and Rishab Shah of @SibleyHub discuss on our #healthcarepodcast. #healthcare #podcast #digitalhealth #healthinnovation
#Integration and #technology. Brian Van Winkle and Rishab Shah of @SibleyHub discuss on our #healthcarepodcast. #healthcare #podcast #digitalhealth #healthinnovation
#Datasecurity and availability. Brian Van Winkle and Rishab Shah of @SibleyHub discuss on our #healthcarepodcast. #healthcare #podcast #digitalhealth #healthinnovation
Commercialization support. Brian Van Winkle and Rishab Shah of @SibleyHub discuss on our #healthcarepodcast. #healthcare #podcast #digitalhealth #healthinnovation
Industry perceptions. Brian Van Winkle and Rishab Shah of @SibleyHub discuss on our #healthcarepodcast. #healthcare #podcast #digitalhealth #healthinnovation