Right now, I am in the middle of rereading The Innovator's Dilemma—that seminal work by Clayton Christensen. I'm at the chapter right now where he talks about resources (human and otherwise), processes, and values. These three things are the trifecta that determines what any organization can manage to achieve—or not achieve, as the case may be with disruptive technologies.
Here's where this is relevant to health IT. You can have the most dedicated team who has built out and proven a digital tool that meaningfully improves patient outcomes and that patients embrace. But if the organization surrounding that team does not have the processes and the values that support this team, the effort will, at best, be suboptimal.
In this health care podcast, I speak with George Mathew, MD, MBA, FACP, and Chief Medical Officer, Americas, over at DXC Technology. We talk about the why and the how of patient/provider collaborations when it comes to digital tools. We spend some time on the process prong of Clayton Christensen's trifecta. From there, there's news you can use, like what's going on with the FDA pre-cert program. And then we also get into how digital tools are being inserted into clinical workflows to greater or lesser effect.
I can probably also claim that we freewheel our way through some resources and some values advice, but at a minimum, we touch on a number of adjacencies to the process of creating and deploying digital tools effectively, including the why of it all.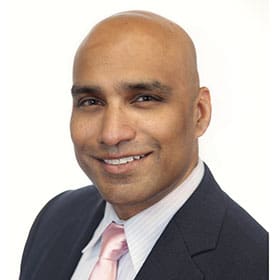 George Mathew, MD, MBA, FACP, is the Chief Medical Officer for the North American health care organization for DXC Technology, the entity created by the merger between Hewlett Packard Enterprise Services and Computer Sciences Corporation (CSC). In this role, Dr. Mathew serves as the clinical expert and health care thought leader to our health care clients in the transforming health care marketplace in payer, provider, life sciences, and state and local Medicaid business.
His experience includes consulting, technology development, and business development work at GE; Goldman, Sachs and Co.; WebMD; Pfizer; and Aetna. Dr. Mathew brings a strong technology innovation focus to this role, having founded a health care technology start-up earlier in his career, and advises several health care IT start-ups.
---
02:27 What the FDA pre-cert program is.
03:46 The cost of drug tests and clinical trials.
04:41 Coming up with standards for evaluating digital therapeutics.
06:45 "The Hives"—the database where all data collected are reviewed.
08:00 The data collected and how they are evaluated.
08:33 The barriers to developing digital therapeutics.
11:43 The Innovator's Dilemma by Clayton Christensen.
13:37 "Getting people to help construct the solution."
15:25 Workflows and how digital therapeutics play into this.
17:22 "The technology has always been easy; the hard part is the workflow change."
20:49 How the information appears within these apps.
22:43 The opportunities within digital therapeutics.
23:33 Cognitive load vs clicks.
24:30 How information gets back to patients—or doesn't.
27:29 "Hospitals should become data companies, except … that they work on behalf of their patients."
27:53 DXC Technology and where people can learn more about the work that they do.
29:21 "What is the real problem you're trying to solve, and what's the right process to solve that problem?"
---
Check out our #healthcarepodcast with @gmathews71 of @DXCTechnology and @DXCHealth. #healthcare #podcast #digitalhealth #digitaltherapeutics #hcmkg
What is the #FDA pre-cert program? @gmathews71 of @DXCTechnology and @DXCHealth discusses in our #healthcarepodcast. #healthcare #podcast #digitalhealth #digitaltherapeutics #hcmkg
What's the true cost of #drugtests and #clinicaltrials? @gmathews71 of @DXCTechnology and @DXCHealth discusses in our #healthcarepodcast. #healthcare #podcast #digitalhealth #digitaltherapeutics #hcmkg
Coming up with the standards to evaluate digital therapeutics. @gmathews71 of @DXCTechnology and @DXCHealth discusses in our #healthcarepodcast. #healthcare #podcast #digitalhealth #digitaltherapeutics #hcmkg
What is "The Hives," and are #healthdata collected and reviewed? @gmathews71 of @DXCTechnology and @DXCHealth discusses in our #healthcarepodcast. #healthcare #podcast #digitalhealth #digitaltherapeutics #hcmkg
The barriers to digital therapeutics. @gmathews71 of @DXCTechnology and @DXCHealth discusses in our #healthcarepodcast. #healthcare #podcast #digitalhealth #digitaltherapeutics #hcmkg
"Getting people to help construct the solution." @gmathews71 of @DXCTechnology and @DXCHealth discusses in our #healthcarepodcast. #healthcare #podcast #digitalhealth #digitaltherapeutics #hcmkg
How do digital therapeutics play into #workflows? @gmathews71 of @DXCTechnology and @DXCHealth discusses in our #healthcarepodcast. #healthcare #podcast #digitalhealth #digitaltherapeutics #hcmkg
"The technology has always been easy; the hard part is the workflow change." @gmathews71 of @DXCTechnology and @DXCHealth discusses in our #healthcarepodcast. #healthcare #podcast #digitalhealth #digitaltherapeutics #hcmkg
What opportunities lie in digital therapeutics? @gmathews71 of @DXCTechnology and @DXCHealth discusses in our #healthcarepodcast. #healthcare #podcast #digitalhealth #digitaltherapeutics #hcmkg
Cognitive load vs clicks. @gmathews71 of @DXCTechnology and @DXCHealth discusses in our #healthcarepodcast. #healthcare #podcast #digitalhealth #digitaltherapeutics #hcmkg
Does information make it back to the #patient? @gmathews71 of @DXCTechnology and @DXCHealth discusses in our #healthcarepodcast. #healthcare #podcast #digitalhealth #digitaltherapeutics #hcmkg
"Hospitals should become data companies, except … that they work on behalf of their patients." @gmathews71 of @DXCTechnology and @DXCHealth discusses in our #healthcarepodcast. #healthcare #podcast #digitalhealth #digitaltherapeutics #hcmkg
"What is the real problem you're trying to solve, and what's the right process to solve that problem?" @gmathews71 of @DXCTechnology and @DXCHealth discusses in our #healthcarepodcast. #healthcare #podcast #digitalhealth #digitaltherapeutics #hcmkg