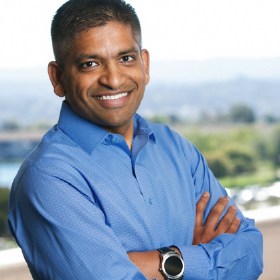 Pramod John is team leader of Vivio Health, a company that is reinventing the therapeutic use and supply chain for the specialty drug space.
The Vivio Health plan solution is challenging the current framework of efficacy and extending it to true effectiveness in the real world. It also offers significant drug acquisition savings and simplicity for the patient by integrating the supply chain into a unified and data driven process.
Prior to Vivio Health, Pramod was founder of Oration PBC (acquired by PokitDok) which was focused on giving back consumers control over their drug purchasing by capturing the prescription in the physician's office and providing real-time pricing options and automatic routing capabilities. Pramod was also VP of Strategy and Innovation at McKesson, the world's largest health care company. At McKesson, Pramod helped develop solutions that leveraged advanced technologies and business process improvements to optimize health care delivery systems, infrastructure, and supply chains.
Earlier, Pramod founded and served as CEO of PacketMotion, Inc., a venture-funded startup in the enterprise network information and policy management industry. The company was later acquired by VMware. In addition, Pramod founded netExaminer.com, a managed-vulnerability assessment company acquired by SonicWALL (owned by Dell).
Pramod earned his PhD in Electrical Engineering from the University of Illinois at Urbana-Champaign. He serves on the Boards of Mission Aviation Fellowship, a global relief organization, and 3Crosses Church in Castro Valley, CA. He also serves on the advisory board of Folia Water and as a mentor at StartX.
---
00:00 What aspects of health care that Vivio solves.
02:15 What would care look like by starting with the question, "What outcome do we want to see?"
04:40 Benefit designs.
06:00 Vivio's customers.
06:50 How this works from the patient side.
09:00 How this looks from a clinician standpoint.
13:00 Proactively building clinical models and data collection.
13:30 Results of Vivio's transparency.
14:45 How this comes down to a numbers problem.
15:00 "There's very little clinical to do in a clinical trial."
17:00 The types of reports that Vivio comes up with, and who they benefit?
19:00 "How do we help people see, 'Here are the one or two things you need to understand."
22:30 You can learn more at www.viviohealth.com.