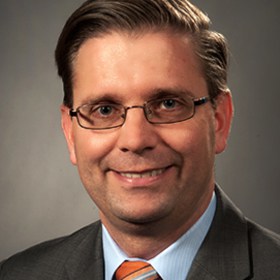 As Senior Vice President in the Office of Population Health Management, Dr. Smith provides clinical leadership for all of Northwell's population health activities. He is also the Medical Director for Health Solutions, Northwell's care management organization and is the Chief Medical Officer for CareConnect, Northwell's insurance company. Prior to these responsibilities he led system-wide care continuum initiatives in the post-acute setting as medical director for Post-Acute Care Services.
Dr. Smith is board certified in Internal Medicine as well as Hospice and Palliative care. He maintains an active clinical practice as a house call physician in Northwell's nationally recognized home-based primary care program.
Dr. Smith, an associate professor at Hofstra Northwell School of Medicine, has published a number of papers on advanced care models for the frail elderly and has been a co-investigator on a number of grants investigating the outcomes of high-intensity primary care programs. He has been invited to give regional and national talks on health policy, the frail elderly and the intersection of payment reform and clinical redesign.
Dr. Smith has worked with regional and national associations such as the Greater New York Hospital Association, the American College of Physicians, Center to Advance Palliative Care, the Coalition to Transform Advanced Care and the American Association of Home Care Medicine on health care reform. He is the executive sponsor for a number of governmental demonstration projects including Medicare's Independence at Home, Bundled Payment for Care Improvement and the New York State Health Home.
Dr. Smith graduated with a degree in sociology from Princeton University and received a Master of Public Policy in health policy from Harvard University, JFK School of Government. He received his Medical Degree from Boston University School of Medicine and completed a residency and chief residency in Internal Medicine at the Mount Sinai Medical Center. Prior to joining Northwell he was an assistant professor at the Mount Sinai School of Medicine and an assistant program director for the Internal Medicine Residency Program.
---
00:00 How CareConnect came into being.
04:50 Who CareConnect is aimed at.
05:10 The ultimate goal of CareConnect.
05:30 How becoming a Payer/Provider benefits the Consumer.
07:40 The efficiencies of being part of a Payer/Provider organization.
09:15 The classic Payer difficulties that go away by becoming a Payer/Provider.
12:30 "The work of a partnership between a Payer and a Provider is never done."
13:00 "How do you have a process to make sure your standards allow for the unexpected?"
15:00 Folding in Precision Medicine into Standard of Care.
15:30 "You have to think of Population Health as a tool for getting a more precise plan for individual patients."
17:40 "We need to be vigilant that exceptions should be exceptional."
21:30 "Patients really trust their Providers."
21:45 "When it comes to Medical Care and Clinical Decision Making, it's best if that's spearheaded by the Provider side."
22:30 What working with Providers looks like.
25:25 How CareConnect is aligning with Physicians.