One of the questions I often get asked is this (actually, it's more of a comment usually than a question): Someone says, "Seems like this whole transformative primary care thing is pretty much just, let's go back to the old country doctor. Let's just have a single doctor out there taking care of patients like a Norman Rockwell painting."
To which I reply (and I'm channeling many experts, including my guest Robert Pearl, MD, when I do), "Yeah … except no." In the golden olden days of the "ye olde country doctor," there was a lot of art in medicine and a lot less science. If someone got cancer or even heart disease, what was required, fairly exclusively, was comfort and compassion.
Now, first and foremost so there's no confusion, am I dismissing the importance of bedside manner and of providing comfort and compassion? Hell no. Would rather have that any day of the week than deal with a "drive-by PCP" or "drive-by specialist" with the throughput of a freeway who has no idea what I may befall the second I step out of his or her exam room.
But in the olden days, medicine was fundamentally art with a lot less science … because there wasn't much science. For the most part, we didn't have data. Or MRIs. This was before the whole pharma industry for the most part. We had weird heroin-infused tinctures, but we didn't have oncology meds or biomarkers or even statins for Pete's sake. Consider all the new diabetes meds and biologics and artificial joints and sub-subspecialists who have, through data and advanced analytics by looking at patients across the country, proven out some best practices that might be fairly unintuitive—or disproven some conventional wisdom.
It's a different and much more complicated world today, and what's required now is a healthy appreciation for not only the art of medicine but also the science. And science inherently means that, yeah, there are standards of care to be adhered to. That's what science means. There are rules and better ways to do things as proven by looking at the data and not relying primarily on personal recollections of what may or may not have worked in the past. Listen to the shows with Bob Matthews (EP315) or Alex Akers (EP154) for more on this topic, but this all leads me to the interview with Dr. Robert Pearl in this healthcare podcast where we get into some concepts that he covers in his new book, Uncaring.
In this episode, we're talking about some how-tos for being a leader of doctors, going about that against the backdrop of this evolving art and science of medicine dynamic, and the impact of this evolving art and science dynamic on physician culture and self-esteem. Because (spoiler alert) if a doc is following evidence-based guidelines, not relying solely on their own personal experience, does that make said doc feel like they are being devalued and that they are but a cog in the wheel and practicing so-called "cookie cutter" medicine? So many nuances, so little time. But, yeah, there's a lot going on which, at its core, is this tension that can play out in some big bad ways.
I asked Dr Pearl for some advice for today's healthcare leaders, and he did not disappoint. He suggested using a model that he calls the A to G model, and, in short, you've got to have:
A: an aspirational vision
B: behaviors
C: context
D: data
E: engagement (throughout the organization and also with the patient)
F: faculty
G: governance
You'll have to listen to the episode for the why and how of each of these.
My guest today, as aforementioned, is Dr. Robert Pearl. I am sure that most of our Relentless Tribe who are listening to the show today already know Dr. Pearl, but in short, he was the CEO of Kaiser Permanente for 18 years. Now he hosts a podcast called Fixing Healthcare. He teaches at the Stanford Graduate School of Medicine and Business. He writes articles for Forbes and elsewhere. He's also an author. He wrote a great book called Mistreated, and now there's a new one called Uncaring. I would recommend both.
Also mentioned in this episode is Zeev Neuwirth, MD.
You can learn more at robertpearlmd.com.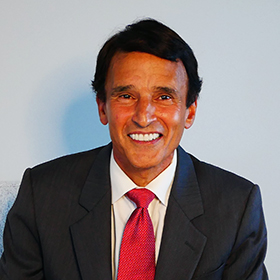 Robert Pearl, MD, is the former CEO of The Permanente Medical Group (1999-2017), the nation's largest medical group, and former president of the Mid-Atlantic Permanente Medical Group (2009-2017). In these roles, he led over 10,000 physicians and 38,000 staff and was responsible for the nationally recognized medical care of 5 million Kaiser Permanente members on the west and east coasts.
Named one of Modern Healthcare's 50 most influential physician leaders, Dr. Pearl is an advocate for the power of integrated, prepaid, technologically advanced, and physician-led healthcare delivery.
He serves as a clinical professor of plastic surgery at Stanford University School of Medicine and is on the faculty of the Stanford Graduate School of Business, where he teaches courses on strategy and leadership and lectures on information technology and healthcare policy.
He is the author of Mistreated: Why We Think We're Getting Good Health Care—And Why We're Usually Wrong, a Washington Post bestseller that offers a roadmap for transforming American healthcare. All proceeds from the book go to Doctors Without Borders. His most recent book, Uncaring: How the Culture of Medicine Kills Doctors and Patients, was published May 2021.
Dr. Pearl hosts the popular podcasts Fixing Healthcare and Medicine: The Truth (formerly Coronavirus: The Truth). He publishes a newsletter with over 13,000 subscribers called Monthly Musings on American Healthcare and is a regular contributor to Forbes. He has been featured on CBS This Morning, CNBC, and NPR, and in TIME, USA Today, and Bloomberg News. He has published more than 100 articles in medical journals and contributed to numerous books. A frequent keynote speaker at healthcare and medical technology conferences, Dr. Pearl has addressed the Commonwealth Club, the World Healthcare Congress, the Institute for Healthcare Improvement's National Quality Forum, and the National Committee for Quality Improvement (NCQA).
Board certified in plastic and reconstructive surgery, Dr. Pearl received his medical degree from the Yale University School of Medicine, followed by a residency in plastic and reconstructive surgery at Stanford University.
From 2012 to 2017, Dr. Pearl served as chairman of the Council of Accountable Physician Practices (CAPP), which includes the nation's largest and best multispecialty medical groups, and participated in the Bipartisan Congressional Task Force on Delivery System Reform and Health IT in Washington, DC.
04:50 What is the idea of the art of medicine?
09:29 EP407 with Vivek Garg, MD, MBA.
09:32 Why has the intrinsic motivation of doctors plummeted?
09:48 Patient perspective versus doctor subjective response.
12:36 Why is there a fundamental change in what doctors and medical professionals can take pride in?
14:38 What did change management look like in the past?
15:24 "What does a patient really want? They'd like not to have a stroke, a heart attack … in the first place."
20:23 "How do leaders achieve evolution?"
23:57 "Incentives always work … the problem in medicine is, they rarely work the way you planned."
24:20 What's the way to make change happen, and why doesn't it involve financial incentives?
28:10 What do leaders in organizations today consistently underestimate?
29:11 What are the three parts of leadership?
29:25 What is the hardest part about leadership?
31:31 Dr. Pearl's two books, Mistreated and Uncaring.
You can learn more at robertpearlmd.com.
@RobertPearlMD discusses art vs science and leadership in #medicine on our #healthcarepodcast. #healthcare #podcast
Recent past interviews:
Click a guest's name for their latest RHV episode!
Larry Bauer (Summer Shorts 8), Secretary Dr David Shulkin and Erin Mistry, Keith Passwater and JR Clark (Summer Shorts 7), Lauren Vela (Summer Shorts 6), Dr Jacob Asher (Summer Shorts 5), Eric Gallagher (Summer Shorts 4), Dan Serrano, Larry Bauer, Dr Vivek Garg (Summer Shorts 3), Dr Scott Conard (Summer Shorts 2)